From the Airport
Barcelona airport (Josep Tarradellas Barcelona-El Prat Airport) is at 12 km from the city. More information about Barcelona's airport: www.aena.es. There are different means of transport to arrive:
By taxi:
In Terminal 1 (T1), you will find a taxi stand in the arrivals zone (P0) and in the Barcelona-Madrid air corridor; in Terminal 2 (T2), taxi stands are located opposite terminals T2A, T2B and T2C. If they are available, they will show a green light with the text LIBRE or LLIURE (it means "available"). You can check fees at www.taxibarcelona.cat.
By car:
If you rent a car from the airport (T1), leave "El Prat del Llobregat" and take C-32B. Continue along this route and head towards Ronda de Dalt / Lleida / Girona. Close to Barcelona, take route C-32 passing close to Cornellà del Llobregat and L'Hospitalet. Take B-20 and take Exit 10 called "Carretera d'Esplugues". Take the street called "Carrer del Gran Capità" Continue on "Carrer del Gran Capità". Drive to "Carrer de John Maynard Keynes".
By train:
There is a Renfe suburban train (www.renfe.es). The airport station is situated opposite of terminal T2, and is connected to this terminal via an airbridge. There is also a Bus transit service between the rail station and T1. The journey from the airport to the train station Barcelona Sants takes approximately 20 minutes. From this station, take the L3 (green line) toward "Zona Universitaria" and get off at the stop "Palau Reial". After a walk of about 15 minutes, you will arrive at the venue.
By Bus (Aerobus):
Aerobus stops at the airport both at Terminal T1 and T2 (A, B, C). The first stop after leaving the airport and entering the Barcelona city area is "Plaça Espanya". From there, you can take the Metro line L3 (green line) to "Palau Reial". Alternatively, you can continue in the bus until its final stop at Plaça Catalunya (city center). Once there, you may also take Metro line L3 (green line) to "Palau Reial". (www.aerobusbcn.com)
By Metro:
There is a direct metro link to "Zona Universitaria" (L9). From there you can walk to the campus or take a metro on the green line (L3) to "Palau Reial".
From the City Centre
Campus Nord of Universitat Politècnica de Catalunya (UPC) is located at the North-West corner of the city, at the end of the Green Line (L3) of the underground. In order to reach the Campus by public transport, it is advisable to use the Metro. The closest station is "L3 - Palau Reial". To walk from "L3 - Palau Reial" metro station to the venue, take the following route: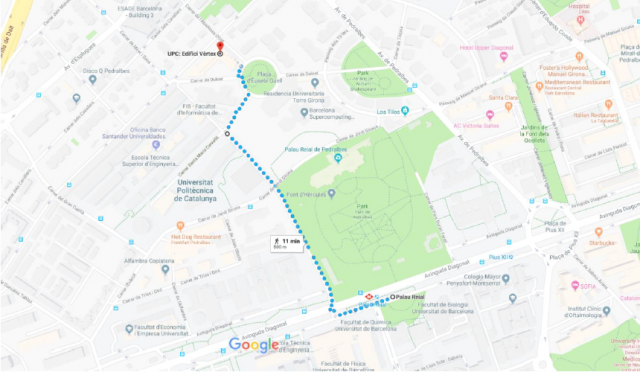 Metro tickets can be purchased at machines in the metro stations and at the information desks. There are different ticket options. Consult the website to find the most suitable option.